Latest Updates

During the holy month of Ramadan, a school day shall not exceed 5 hours. Schools have been advised that a school day cannot start prior to 9:30 AM and must be concluded before 3:00 PM.
Continuation of distance learning confirmed until the end of the Academic year.
Some exam boards have cancelled their exams. Check the "External Exams" FAQs below for more information.
Schools and higher education institutions have been given 4 weeks break starting from Sunday 8 March 2020.
Nursery operations have been suspended until further notice.
The safety and wellbeing of our students and all employees working in the education sector is a top priority for us. Due to the developing situation related to COVID-19, ADEK has partnered with various entities to take precautionary measures that ensure students and all employees remain safe. This page provides you with answers to questions frequently asked by parents and students on how the education sector in Abu Dhabi is affected by the COVID-19 outbreak; in addition to guidelines that help parents and students achieve the best outcomes from distance learning, in a healthy and safe environment at home.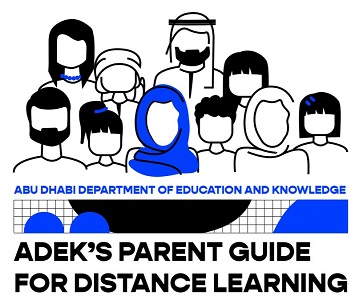 Parent Guide for Distance Learning
In this guide, you will find useful information that will support you during the distance learning period, such as strategies to help your child cope in this situation, what support you can expect to receive and how you can help your child during distance learning.